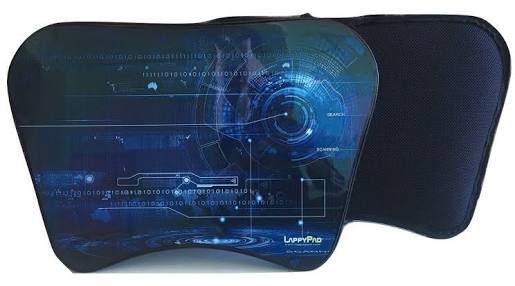 Lap Desk
Lappypad - Designer multipurpose laptop stand for bed, lap desk and laptop table. Comforts you while using laptops. No need for laptop cooling pad.
Features:
• Portability with Multipurpose usage: Use laptop stand while traveling, college campus meetings, reading, writing, laptop usage. Drinks, coffee, tea- Just fine. lightweight laptop stand and laptop table. Portable work station. No need for foldable laptop cooling pads or foldable laptop stands.
• Study desk Space Saver: No need for big study tables. Lappypad is your ready to go study table. Easy to use lap desk for daily needs. Writing pad and reading pad.
• Ergonomic Design with anti-slid surface: Provides perfect comfort zone while using laptops & promotes proper sitting posture. Helps prevent neck, back, & arm stiffness by keeping the screen at eye level.
• Safety against laptop heat: Stops laptop heat reaching towards your thighs. Resulting in healthy usage of laptops. No heat rashes due to laptop heat.
• Cool designs & Customized LappyPad: Comes with awesome designs. Available in customized designs as well.
Specifications:
Type: Laptop Stand, laptop table, lap desk, study table, multipurpose laptop stand
• Material:Fiber
• Size: 21 x 14 x 2 in (LxWxH)
• Weight:850 gms
Laptop Stand with pillow. Special memory foam underneath the product gives you perfect joy of using Lappypad.
Create your own work desk wherever you want.
Perfect alternative for laptop table, laptop stand, laptop cooling pad, laptop pillow pad, laptop cushion or study table. Use as writing stand, study desk, lapboard for laptops.
Also Purchase